Rabbit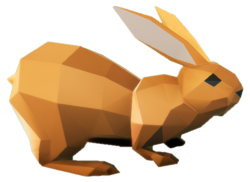 Details
This article is about the animal found on Temperate Climate and Taiga and Tundra Ylands. For the similar white variant found on the snowy mountain tops of Taiga and Tundra Ylands, see Polar Rabbit.
Information
The Rabbit is a passive animal found on the Taiga and Tundra and Temperate Climate Ylands.
Behaviour
When approached by the player they will flee, scurrying away from the player.
Drops
[
]
A Rabbit carcass will yield 1 Rabbit Hide and 1 Raw Rabbit Meat.
Colour Variants
[
]